2018 Battle of the Brands
Welcome to Saturday Night Drag Racing at Irwindale Dragstrip.  Our goal is to allow those interested to participate in some fun races on Saturday Nights. After all, what good is Test N Tune if you don't get out and test your skills in a race from time to time?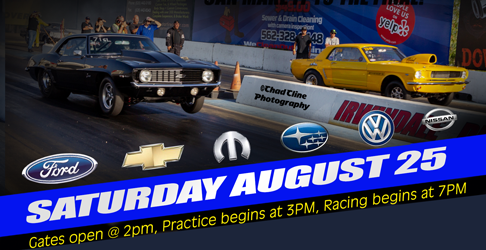 So the BATTLE OF THE BRANDS….
This will be a bracket style race with four (4) manufacturer categories. Ford, Chevy, Mopar and Import.  Category will be determined by body style.
Each racer will compete against other racers of their SAME make.  Once narrowed down to the final of each make, the 4 finalists will race in a random draw.
Trophies will be awarded to the finalist from each manufacturer category.
Once Eliminated, you will be able to race in Lane 5 (Time Only) for the Fast Pass Challenge. Fast pass challenge will be awarded to the FASTEST ET and BEST RT of the night.
Tickets/Race entries will be sold day of the event.
$20 Tech Card (Test and Tune, Fast Pass Challenge ONLY)
$30 Race Entry (includes Test N Tune)
$10 Adult Spectators
$5 Child (6-13)
FREE (5 and Under)