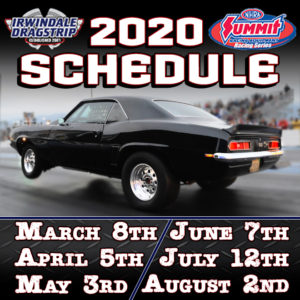 FOR IMMEDIATE RELEASE
2020 Irwindale Dragstrip
Summit E.T. Series Schedule
   Round #1             March 8th
Round #2             April 5th
Round #3             May 3rd
 Round #4             June 7th
 Round #5             July 12th
     Round #6             August 2nd
For More Info Contact:
Mike Atkinson
michael@irwindalespeedway.com
(626) 358-1100
About Irwindale Dragstrip: Irwindale Dragstrip is located on the Irwindale Speedway and Event Center property. Located at the 605 Freeway and Arrow Hwy, the dragstrip is the last remaining legal place to race in LA County.  Featuring an 1/8 mile dragstrip, Irwindale plays host to drag racing action every Thursday Night, the first Saturday of every month and select Saturday's and Sunday's beyond that.  Thanks to all the great partners of the speedway: Sunrise Ford, High Point Distributing, LKQ Pick Your Part, Lucas Oil, O'Reilly's Auto Parts, Jan's Towing, Ken Porter Auctions, Pinnacle Peak Steakhouse, Clean Out Plumbing and Wood's Electric. For a complete schedule of events, visit 
www.irwindalespeedway.com
.