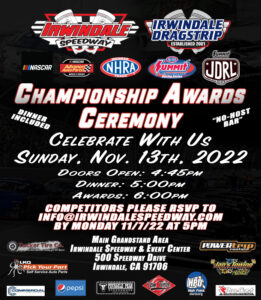 On November 13th, we'd like to celebrate,
from those that drove straight to those that did figure 8.
The banquet hall will be in Reindeer stable,
under it's beautiful lights, since we are able.
Dress warm and cozy in holiday cheer,
it's a great way to celebrate the year!
We look forward to celebrating those that were first,
and those that were last because no matter where you finished we all had a blast.
Competitors from Irwindale Speedway's NASCAR Weekly Racing Series and Irwindale Dragstrip's Summit E.T. Series and Junior Drag Racing Series are cordially invited to the 2022 Irwindale Speedway & Event Center Championship Awards Ceremony on Sunday, November 13th, 2022.
Doors will open at 4:45pm, Dinner will be served at 5:00pm and Awards will begin at 6:00pm.
Please RSVP to info@irwindalespeedway.com by Monday, November 7th at 5pm with your name, division, and the number of Family, Friends, Crew and/or Partners who will be accompanying you.
WE LOOK FORWARD TO CELEBRATING A GREAT YEAR WITH ALL OF YOU!