2023 Night of Destruction Info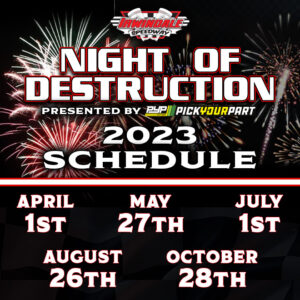 The Greatest Show on Asphalt: NOD!!
The 2023 Night of Destruction presented by Pick Your Part season will consist of FIVE Saturdays at Irwindale Speedway! Each NOD features a unique variety of events for your entertainment. Events can include the ARCA Menards Series West, Pick Your Part Jet Car Burndown, Trailer Destruction Races, Skid Plate Races, Tucker Tire Enduro Races, Figure 8 Races and/or Flag Pole Racing. Regardless of the date, you can be sure that it will end with LA's BEST Fireworks Show!
Click Here for Event Lineups & Tickets
Click Here for Spectator Info (Code of Conduct, Items Permitted, Etc.)
For competition information on NOD events, please contact info@irwindalespeedway.com