From SRLSouthwesttour.com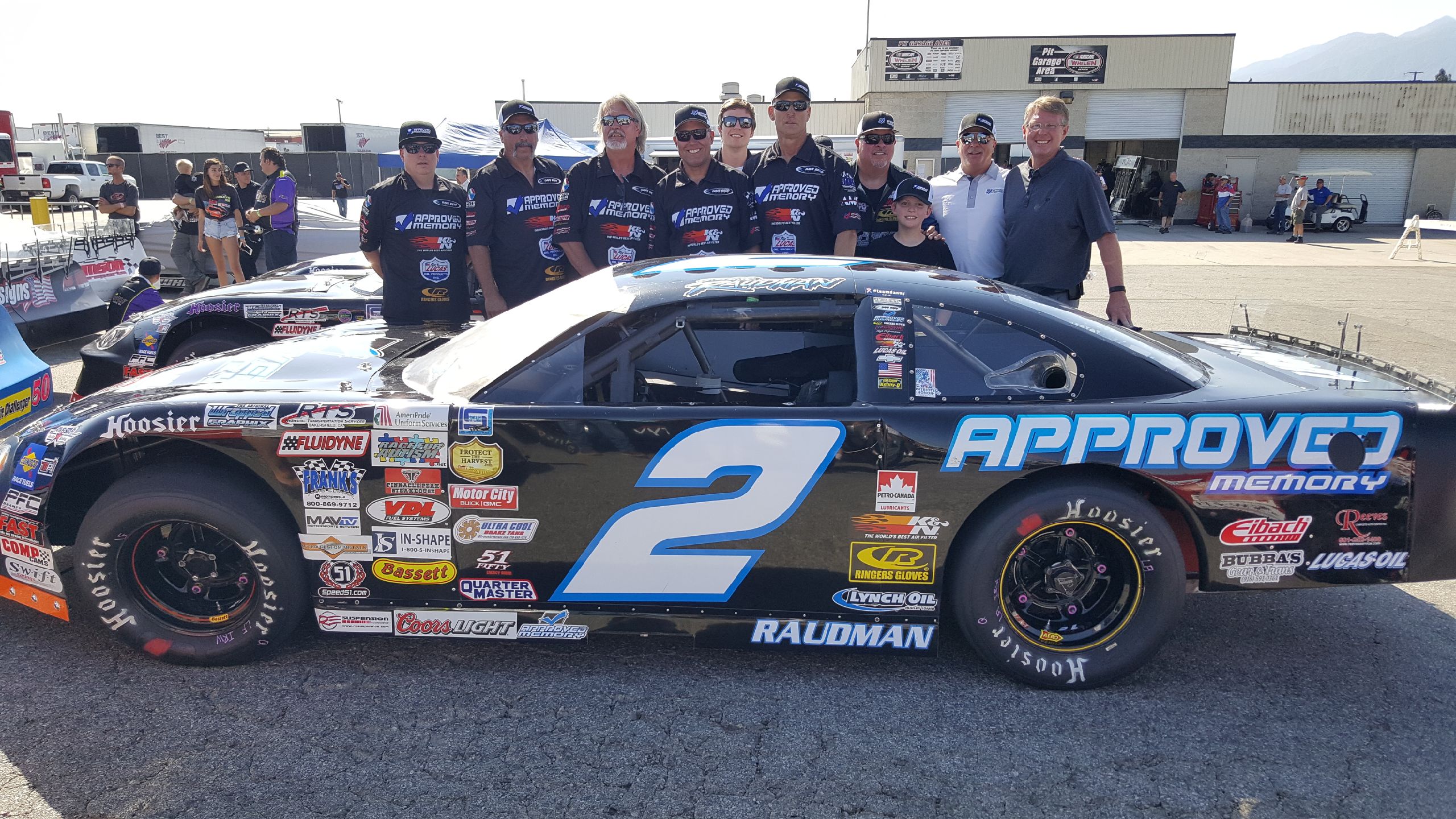 Craig Raudman began his racing career at Shasta Speedway (CA) in 1980 in the Street Stock Division. In 2019, Raudman will participate in his last full-time effort, for Dave Reed Racing (DRR), in the SPEARS SRL Southwest Tour Series presented by Lucas Oil.  In a career that will span 40 seasons, Raudman is one of the most well-known racers on the west coast, and the black #2 Approved Memory Super Late Model is recognized wherever it goes.
Over the last 27 years, most of those seasons were spent racing with long-time friend and car owner, Dave Reed.  The two have been friends since 1993, through good times, bad times and brief times apart. Raudman and Reed scored a 2001 NASCAR Southwest Tour Series Championship together and Raudman scored a majority of his 14 career NASCAR Southwest Tour Series division wins with Reed.  He also owns his three SPEARS Southwest Tour Series victories with Reed and was elected to the NCARA Northern California Motorsports Hall of Fame in 2016.  His first championship was in 1992, where he won the NASCAR Whelen All American Series Track Championship at Shasta Speedway (CA) a year before he met Reed.
After 27 years together, this will be Raudman's last full-time season behind the wheel, and Dave Reed will miss the comradery with Raudman, as he remembered back to their beginnings together.
"We are sad to say that this will be Craig's last year of full-time racing, and that will come to an end at the 2019 Spears SRL Southwest Tour Series season finale in Las Vegas", Reed announced. "We first met at 'The October Classic' at Mesa Marin Raceway (CA) in 1993, when my company, Advantage Memory (now Approved Memory), sponsored Craig's NASCAR Featherlite Southwest Tour car.  Craig qualified on the outside pole next to Ron Hornaday.  On the first lap of 300, coming off turn 4, Craig spun all by himself with no help. He did a full 360 and kept going, hitting nothing, with no one hitting him. As green as I was, I thought that was "Bad Ass" driving.  I thought this is my guy, ha-ha!  We have been the best of friends, and racing together, ever since."  (Note: Raudman finished sixth in that event.)
Raudman recalls the race, and the circumstances that led to the beginning of their long-time relationship.
"That's the deal (spinning in front of the field at Mesa Marin) that sold the whole deal, as Dave said, 'that's the guy I want', and I don't know why", Raudman chuckled.  "I was anticipating some old guy showing up.  It's a guy who owns a computer memory company, so I'm thinking it's some old dude. I'm thinking we would put up a little Easy-up, with an ice chest and some chairs for the guys to sit in.  Here he shows up and he's some young little punk, this young guy.  I was like 'wow' this is not what I was expecting.  I was in complete shock.  He was this totally cool dude, with some good cool friends that I got to be friends with, and still am today."
Raudman continued, "We raced those two races together, the October Classic at Mesa Marin, and then we went to Phoenix (now ISM Raceway, AZ). Dave didn't even know this at the time, but we went to practice the day before (the race), and he wasn't there. I spun out coming off of turn 2 and hit the wall.  I screwed that car up pretty good.  Dave was coming the next day, and he had his name on the car, and that is the one he paid for us to run.  So, we worked hard all night long, to get that thing bent back.  The car was never the same, but he didn't know that back then, but he knows now."
Their racing relationship hit the pause button, at that point in time, but they remained friends until Raudman reached out to Reed through a letter and a proposal.
"At that point in time, he kind of moved on to some Trans-Am Series guys for a while", Raudman recalled.  "But he still invited me to his Christmas party, and we did a couple of other things together, stayed in contact, and kind of hung out.  I really didn't think anything was going to happen, so I actually wrote him a letter. He was calling about all the stuff that was going on in that series (Trans Am), so I laid out a program for him, and a couple of months later he said 'hey, I'd like to do something', and we started our program from scratch."
As with many long-time racers, Raudman has a variety stories, and just prior to that period, Raudman made some new well-known friends in the racing business.  He began the 1993 season driving for Ray Miller.  After the fourth event of the season, the Southwest Tour headed to Sears Point Raceway (now Sonoma Raceway (CA)).  Do to the circumstances at that event, he made a new friend in Ron Hornaday Jr.  It was a friendship that eventually led to Raudman taking over the Victory Circle Chassis Company, from Hornaday.
"We came to Sonoma and I was driving a Ford Thunderbird", Raudman began. "Ray rented the car out to Davey Allison for that race, right out from under me.  I had to put my car back together and it got destroyed at Sonoma. All I had was a motor and transmission, so I was pretty much out of the 'Tour" deal.  I don't remember how I got Ron's number, but I called him, never knowing him other than seeing him race a bunch.  He told me he had a car that Rudy Revak drove at Sonoma.  He told me to bring my motor and tranny down, and we'll do it (rent the car).  I met him in his shop out on the Sierra Highway and it led me to meeting Burney Hilber, it got a tire deal started for me and he ended up renting the car to me for $1,000 per race, for five or six races.  I ended up buying that car from Ron, which was the very first Victory Circle car built, which was driven by Dan Press."
Another Sonoma memory found Raudman with a car, but no motor the following year.  He also found himself in a situation, that could affect his first-born son, for the rest of his life.
"My motor needed to be freshened up, so I sent it up to Brad Peters, who I had just gotten to know", Raudman recalled. "Brad called me just before the Sears Point race and told me the block was cracked, and I needed a new one.  There was no way I could afford one.  So about a week before the race, I get a call from Burney (Hilber).  Burney tells me; 'I hear you don't have a motor for Sears Point.  Well I've got a motor for ya.'  I told Burney, 'if that motor blows up, I can't afford to pay ya, or fix it.'  Burney tells me; 'I gotta deal for ya…, you gotta pay me half the winnings and if you blow it up, you gotta name your kid after me, and we'll call it even.' I thought he was joking, but he was dead serious."
Raudman continued, "At the time, I was married to Stacy, (Raudman's first wife) who was Chase's mom.  She was six months pregnant at the time, so I told Burney to 'hold on', so I went in and told her the whole story.  She said, 'Ya, okay', so I got back on the phone and said, 'ya, alright', So Burney says, 'It's a deal'.  I don't think Chase's first name would be Burney, but it would have been his middle name", Raudman laughed.
His weekend of adventure had only begun, however, as the motor story only got better…., or worse.
"So, Burney tells me he will bring the motor to the track.  When he shows up, he's got a block, with a oil pan, and a set of heads with a water pump, and an intake manifold, and that is it.  No pulleys, no drives, no dry sump pump, no nothing.  So, I'm like, 'Burney, what am I going to do with this?'  I call Brad Peters up and tell him; 'I've got this motor and I need all my parts.  Can you get all the stuff off the side of my motor and bring them down?', because it was all apart already.  Two hours later he shows up with all the stuff.  We sat down in the middle of our pit, on a piece of carpet, and put that motor together, and got it in the car."
"We put it in, in time for the last practice.  We went out, and the thing stuck a valve, on about the fourth lap.  I thought I was done, but a guy named Tony Oddo Jr comes by and says; 'If we can get that head off, my shop is right over in Suisun (CA). If we get it off, I'll take it to my shop tonight, and I can fix that valve. I'll have it back in the morning, and we'll put it back together'."
"It was qualifying day, when we put that thing back together.  I made the race and ended up running up in the front, but I ended up with one problem. When the guys (officials) checked the fuel cell, it got put back in the wrong way, so the fuel pick-up was on the wrong side. We started to run out of gas in Turn 11, on the last lap, and I dropped back to fifth at the finish.  (Note Turn 11 is the final turn at Sonoma Raceway) That's still not bad for showing up with no motor.  That's hard-core racing right there."
It was the end of that 1994 season, in which the relationship with Dave Reed and Raudman really came together on the track.  That relationship led to their many successes together over the years.  Dave Reed fondly remembered some of those times.
"Craig and I have been very fortunate to accomplish everything we have, over almost 30 years together", Reed began.  "Some of those memories include the number of races we won, and all the fast times we set. He was the (NASCAR) Southwest Tour All-Time Fast Time leader (29), and tied for first with consecutive poles in 2001, also winning the NASCAR Southwest Tour Series Championship that season. We also had many big race wins, which included our first win together at Cajon Speedway in 1995.  I remember the infamous Sears Point win with Bill Broderick, 'The Hat Man' in Victory Lane.  We won the biggest purse ($18,175) at the time, in the LA Street Race, among many others. Craig, and his DRR team, have won at just about every track on the west coast."
But like in every relationship there are highs and lows, and for Raudman and Reed, it was no different. As both where reaching their high-point in racing, with their 2001 championship, the bottom was about to drop out, from underneath the long-time friends.
Raudman began, "There are lots of lows, there are 10,000 lows, but the worst was probably when we were going to the finish, to win that 2001 championship.  His company was going out of business, and we went through divorces, and we had to sell everything.  We had such good cars, and good people, and to have to let all that go was a tough pill to swallow.  It was really hard.  Darrell LaMoure got one or two of our best cars, and he took our best car, that we had won a sh** load of races in, and went out to Phoenix to practice the car. Something happened, and the throttle stuck.  He hit the wall and broke his neck, and that was the end of the car as well. It was just one hit after another."
Raudman continued, "We had Tracy Norman working with us that year (2001), and he was probably the best guy I ever worked with.  We just had everything going those years.  We won the championship, and then had to sell everything, and it was gone. Dave's wife was gone, my wife was gone, as I was in the middle of a divorce too.  It's the worst deal to see all your stuff leaving and gone.  Then you go to a race a year or two later, and you run into your old pit box, or your old generator, or say that's my old car. That was the worst time."
Midway through the 2002 Southwest Tour Season, Raudman returned to the track, racing for Les Denherder.  The following two seasons, he continued with the same team, finishing the 2004 season as the championship runner-up, scoring two more wins.  Through those times, Raudman and Reed remained close.
"When Dave lost everything, we still hung out and we still did things together", Raudman recalled.  "When I started racing with Les Denherder, and did that deal, we had a lot of the same guys that used to help me out on his (Dave Reed) team.  Dave and I have been through a lot, and he is one of my best friends.  We have had fights and disagreements, but we are still doing it, and we are still friends, and it is a pretty good deal.  I don't have many friends like that, and that is all I can say."
In 2007, Raudman and Reed reunited in the SPEARS SRL Southwest Tour Series, for a single race at Raudman's home track, Shasta Speedway.  They won that race, which catapulted them into a run for the championship in 2008.  Raudman came up just short of the championship that season, behind three-time SRL, and two-time NASCAR Southwest Tour Series Champion Jim Pettit II.  Following, the duo ran partial schedules over six seasons, but decided to attempt championship bids in 2017 and 2018.
Raudman had a good season in 2017, nearly finding victory lane at Madera Speedway (CA).  He entered the finale at the Bullring at Las Vegas Motor Speedway (NV), with a good chance at second in the championship standings. A medical emergency cost him the start there, however, and Raudman settled for a seventh-place position in the points.
The 2018 season was disappointing for Craig, and the Dave Reed Racing Team.  After a promising top-ten finish in the Winter Showdown, the team had only two top-five efforts, despite running well in multiple events. As car owner Dave Reed said, "In 2018 we had several chances to win a few races, but luck was just not on our side."
As the end of Raudman's full-time effort behind the wheel nears, Reed can only look back over their relationship with fondness.
"I have always dreaded this day would come, but there is no way Craig and our team could forget all the fun, long lasting memories and friendships through racing we have made", Reed recalled.  "Our current team has been together for 15 plus years, and raced against each other for 20 plus years.  These guys are the best out there.  I know we all say we have the best guys, but I'll put our over 50 (year old) crew members against anyone, on or off the track.  We must have the longest group text going.  Thankfully, we finally got the last of the guys off their flip phones, after many years, lol."
For Raudman, the decision to retire was difficult, but it was a combination of different factors that ultimately led to the decision.
"We have been talking about it for a while, and I wasn't even sure if we were going to race this past season, but Dave talked me into it", Raudman began.  "As far as my employment, things are a little tight for Raudman right now, and things aren't going like they used to.  I need to find a way to make a living, and doing the racing doesn't really do it for me.  That's a small part of it, but another part is my kid is growing up and he is racing, and I'm at the race track and I'm not there to see him.  He has won a bunch of races and I'm not there to be a part of it.  I feel that is kind of selfish.  He is 16 now, and there aren't a lot of years left.  He has got his driver's license now, and you know how that is…..you hardly see them anymore."
"Like anybody in racing, you work a lot of hours.  You miss a lot of stuff, and I'm getting old.  It's tough to do all this stuff, and it is taking its toll on me.  To be honest, I don't think I always give these guys what they deserve, when I'm driving.  There are times when I'm really good, and there are times that I don't feel like I'm as good as I used to be.  I'm not in the greatest shape of everyone, but I'm working out every day. But it is really hard to do everything you need to do to keep going."
After a long career driving a race car, Reed is planning a special year for Raudman and his fans, to commemorate the Cottonwood, CA driver's many successes.  He also plans to celebrate a few more successes.
"We are really looking forward to Craig's farewell year, while getting some wins along the way", Reed said.  "Not to mention adding some chapters of memories to the long list of them in the book. We look forward to having a few surprises for Craig, and the fans through the year, to help commemorate his long career in racing."
In 2020, DRR will enter a new chapter in the organization's history.  The team will continue-on, with leadership from Raudman, Bond Suss and Reed. Preparations for that future will begin this season, with Raudman's experience playing a key role in the transition.
"Craig will continue to race a few races a year, following the 2019 season", Reed said. "2020 will bring a new dimension to the DRR team, as we are not going away, but looking for the next Craig Raudman to bring through the ranks.  DRR, Craig Raudman, and Bond Suss will be interviewing up and coming drivers, during the 2019 season, to put in the seat for the 2020 season in the Spears SRL Southwest Tour Series. We will be looking for fully funded drivers."
Reed continued on, "In 2019, DRR East is currently building their SLM program in Mooresville (NC), with Craig's Crew Chief, for the last few years, Bond Suss, and my son Austin.  We had Austin in the K&N West, at the Las Vegas Dirt Race, and plan on the K&N race at the October Classic at Kern, and the ISM K&N West event in Phoenix. In the SLM we plan to be at the PASS Richmond Race, the Bristol SLM race on June 1st among a few other big Super Late Model races.   Austin will also be racing for DRR, in his #14 Approved Memory SLM in 2020 in the SRL, in select races.  He will also race in select Super Late Model races on the east coast, and will help build our program on both coasts."
When it comes to his long-time friend and driver, Reed knows Raudman will be missed on the track, and as well as for all the things he has done for short track racing.
"Racing on the west coast will really miss Craig's all familiar black # 2 car on the track, on a regular basis", Reed surmised.  "He has done so much for the sport of racing, which also includes taking over Ron Hornaday's Victory Circle Chassis, when Ron went back east to drive for Dale Earnhardt."
Reed is also thankful for all those who have helped over all the years.
"I would personally like to thank each and every team member that ever raced with us, and their families, for putting up with us and the sport we all LOVE so much!!!!!  I'd like to thank our 25-year sponsors; Approved Memory, Ringers Gloves, Peters Racing Engines and Fluidyne Performance. Our 15 plus year sponsors include Lucas Oil, K&N Filters, Eibach, JDA BRE, Coleman Powersports and Bubba's Rear Ends.
Raudman was appreciative of four individuals who were responsible for a majority of his racing success.
I'd really like to thank Dave Reed, for his friendship, all he has done for my career, Raudman exclaimed! I'd also like to express my thanks to Ron Hornaday Jr. for giving me a car to dd Peters for all the motor help he has given me over all the years".
When asked about his last full season behind the wheel, and his goals for that season, Raudman knew exactly what he wanted, and went straight to the point.
"I want to win……I want to win!"