NHRA Division VII Jr Dragsters Jan 18-20, 2019
Welcome to the 2019 NHRA Division VII Jr Dragster Racing Season.  Below you will find information regarding the opening round at the Irwindale Speedway and Dragstrip.  We are excited to partner with NHRA to host this event.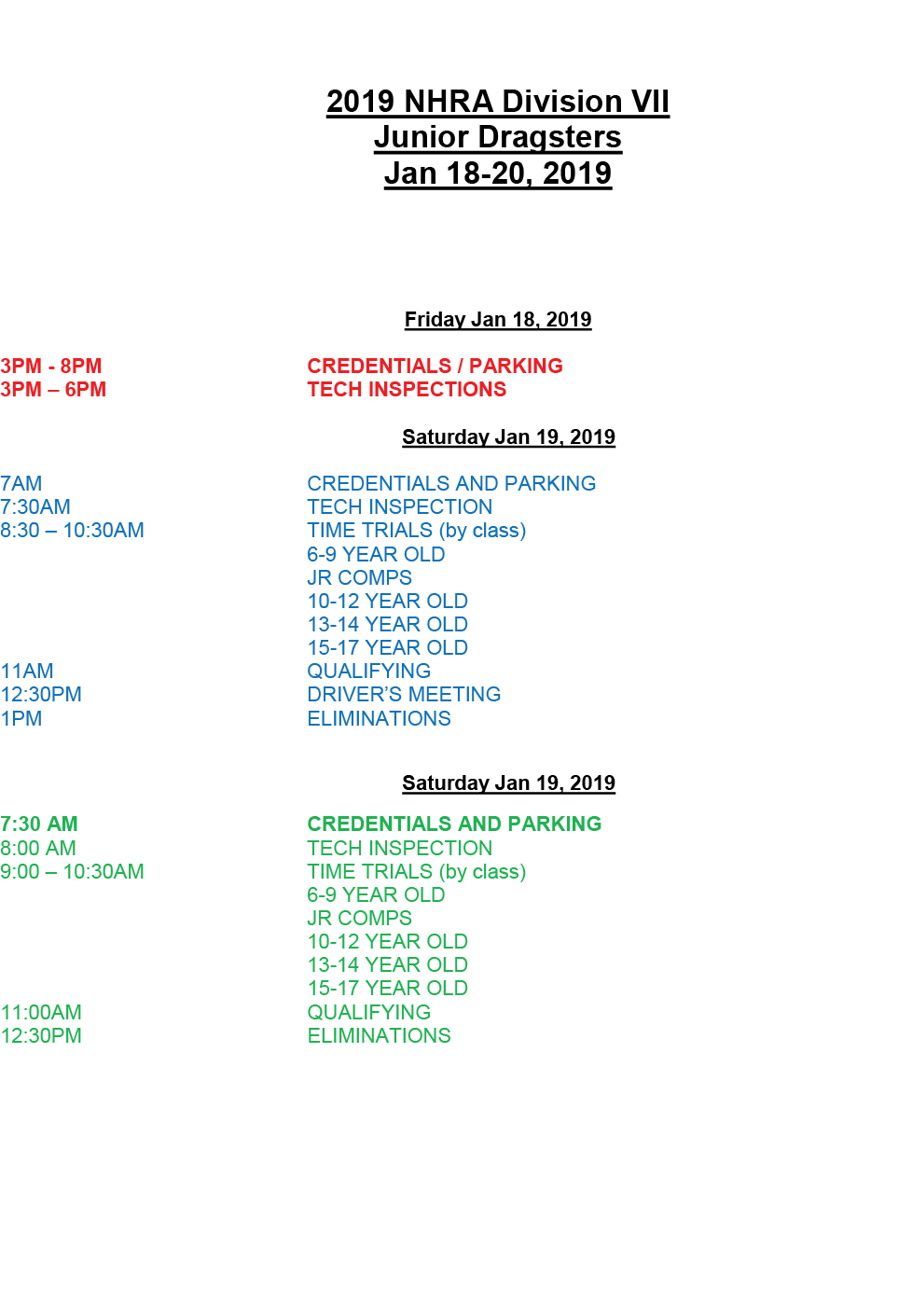 FEE SCHEDULE
$75              Car/Driver per day ($150 weekend)
$30              Adult Weekend Crew Fee
$15              Child Weekend Crew Fee (6-12)
$20              2 Day Adult Spectator Pass (Sat/Sun)
$15             2 Day Child Spectator Pass (5-12 years old)
$10              Adult Spectator, Sunday Only
$5               Child Spectator, Sunday Only
(note: Spectator Passes are ONLY available Sat/Sun. All Friday Drop Off and load-ins will require a weekend crew pass)
PROCEDURAL INFORMATION
Please note the gate times and plan to arrive on time.  In the event that you arrive early, please stage in the North Parking lot behind the speedway grandstands.  Please do not enter beyond the parking kiosk until our staff can get you checked in.
We are hosting a Thursday Night Thunder on Thursday Jan 17.  This is an open Test N Tune held in conjunction with our Street Race program.  It is open to the Juniors, if interested, for the same price $20 to race, $10 per person crew/spectator.  Juniors will be ran grouped together following our exhibition cars.
If you attend the Thursday Night Thunder Test N Tune, we CAN NOT allow camping on Thursday Night.  Trailers can be left, but we can not have anyone on property Thursday Night.  Friday and Saturday Night Camping is permitted at no cost.
Lastly, please be aware that Irwindale Speedway and Event Center does not allow charcoal barbecues in the pit or parking area at any time.  All barbecues must be propane.