Formula Drift and Irwindale Speedway are excited to welcome fans to the 2022 Formula Drift Title Fight!
Taking place on Friday, October 14th and Saturday, October 15th, here are a few reminders for Spectators headed to the event!
RIDE SHARE
Irwindale Speedway advocates the use of RIDE SHARE apps to travel to and from the Speedway! PARKING IS LIMITED and not guaranteed once the Main Lot and Remote Lot have reached capacity.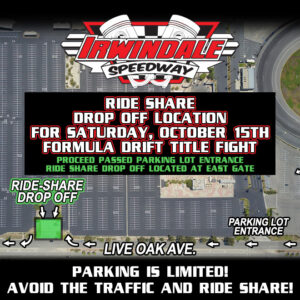 PARKING
Parking will be $20 per vehicle on Friday, and $20 per vehicle on Saturday. THERE WILL BE NO RE-ENTRY to the Parking Lot. Once a vehicle leaves the property, there will be no guarantees that there will be parking available upon return to the facility. If there is parking available, the vehicle will be subject to another $20 charge.
REMOTE  PARKING LOT
The Remote Lot at 4951 Commerce Dr. Baldwin Park, CA will open at 3pm on Saturday for those who wish to bypass the main lot. Parking charge is $20 per vehicle. NO RE-ENTRY at Remote Lot. Shuttles will run to and from the remote lot until one hour after the Finals. Vehicles left in remote lot after Last Shuttle will be subject to tow at owners expense.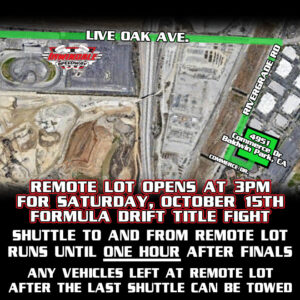 ---
SCHEDULE OF EVENTS
Friday, October 14, 2022
| | |
| --- | --- |
| 10:00AM – 7:00PM | WILL CALL: HOURS OF OPERATION |
| 12:00PM – 8:00PM | BOX OFFICE: HOURS |
| 12:00PM – 10:00PM | VENUE OPEN TO PUBLIC |
| 1:15PM – 3:15PM | PRO: PRACTICE |
| 3:15PM – 5:15PM | HALF TIME BREAK |
| 3:45PM – 4:45PM | PRO: AUTOGRAPH SIGNING |
| 5:15PM – 7:15PM | PRO: WARM UP |
| 7:15PM – 10:00PM | LIVESTREAM: HTTPS://FORMULAD.COM/LIVE (PRO: QUALIFYING) |
Saturday, October 15, 2022
| | |
| --- | --- |
| 10:30AM – 8:00PM | WILL CALL: HOURS |
| 12:00PM – 10:00PM | VENUE OPEN TO PUBLIC |
| 12:00PM – 8:00PM | BOX OFFICE: HOURS |
| 12:30PM – 2:30PM | PRO: WARM UP |
| 2:45PM – 5:15PM | PRO: TOP 32 |
| 5:15PM – 6:45PM | HALF TIME BREAK |
| 6:00PM | TRACK EXPERIENCE WALK |
| 7:00PM – 9:45PM | LIVESTREAM: HTTPS://FORMULAD.COM/LIVE (PRO: OPENING CEREMONY + TOP 16) |
| 10:00PM – 10:30PM | PRO: TROPHY CEREMONY |
---
PROHIBITED ITEMS
Formula DRIFT has the right to refuse any of the following items:
– Alcoholic Beverages
– Drones / RC Aircraft
– Canopies / Easy-ups
– Illegal Substances
– Skates / Rollerblades
– Bicycles / Tricycles
– Hoverboards / Skateboards
– Ladders / Stepstools
– Ice Chest / Coolers
– Guns / Knives / Weapons
– Pets /Animals (Service only)
– Glass Bottles / Cans
– Fireworks
– Fire Pits