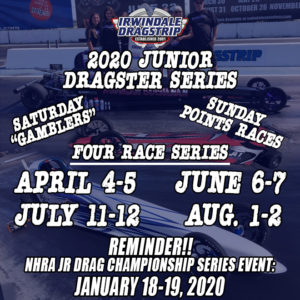 For Immediate Release 
(Tuesday, December 10, 2019) Irwindale, CA – Irwindale Dragstrip is pleased to announce that Junior Dragsters will return in 2020. The division, which has produced NHRA champions such as J.R. Todd and Erica Enders, is a high priority for Irwindale Dragstrip in 2020. "The Junior Dragster division is instrumental to this race track as we seek to help develop the next generation of drag racer." says I.D. President Tim Huddleston.
The 2019 season saw three drivers rise to the top, as Morgan Buchanan (13-17 Div.), Sean Kelly (10-12 Div.), and Christian Lapierre (6-9 Div.) took home championships at Irwindale Dragstrip. 2020 will see the same three age-based divisions competing for championships at Irwindale Dragstrip. The four race series will feature a "Best 3 out of 4" format, where competitors will see their final points compromised of their best 3 finishes. The format is used widely across the country as it allows for a flexible, yet highly competitive, championship series. The 2020 I.D. Jr. Dragster Series will officially compete on Sundays, but with an added twist in play for Saturdays. Teams will have the opportunity to compete in a "Saturday Gambler" the day before points events. "We hope this will serve as both an opportunity to increase track time, and as a fun addition to our Saturday Drags program" says Huddleston.
First up for Irwindale Dragstrip and Jr. Drags will be the 2020 Pacific Division Jr. Championship Series Event on January 18-19, 2020. The Irwindale Dragstrip Jr. Dragster Series schedule will be as follows:
-April 4-5
-June 6-7
-July 11-12
-August 1-2
For more info on the 2020 Irwindale Dragstrip Jr. Dragster Series, please email info@irwindalespeedway.com or call us at (626) 358-1100.
About Irwindale Dragstrip: Irwindale Dragstrip is located on the Irwindale Speedway and Event Center property. Located at the 605 Freeway and Arrow Hwy, the dragstrip is the last remaining legal place to race in LA County.  Featuring an 1/8 mile dragstrip, Irwindale plays host to drag racing action every Thursday Night, the first Saturday of every month and select Saturday's and Sunday's beyond that.  Thanks to all the great partners of the speedway: Sunrise Ford, High Point Distributing, LKQ Pick Your Part, Lucas Oil, O'Reilly's Auto Parts, Jan's Towing, Ken Porter Auctions, Pinnacle Peak Steakhouse, Clean Out Plumbing and Wood's Electric. For a complete schedule of events, visit www.irwindalespeedway.com.