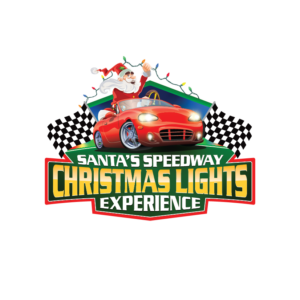 IRWINDALE SPEEDWAY SHINES A SPOTLIGHT ON THE HOLIDAYS WITH THE LAUNCH OF IT'S ALL-NEW SANTA'S SPEEDWAY CHRISTMAS LIGHTS EXPERIENCE
In honor of it's third anniversary, the Speedway will make this year's holiday extravaganza entirely walkable; immersing families from the moment they arrive into the World of Christmas as they come face-to-face with the Southland's biggest and brightest Christmas lighting displays from Mobile Illumination, the company responsible for some of the most notable malls, movie studios and theme park Christmas events in Los Angeles
Advance tickets for the experience opening on December 1, 2022 and running through January 1, 2023 can be purchased on www.santasspeedway.com starting today
IRWINDALE, CA, NOVEMBER 8, 2022 – Irwindale Speedway & Event Center, the premier motorsports facility of its kind in Southern California, in collaboration with Mobile Illumination, the company known for its Christmas tree lighting extravaganzas at movie theatres, malls and theme parks throughout Southern California, today announced the highly anticipated return of its Santa's Speedway Christmas Lights Experience. A crowd favorite for three years and counting, the Speedway has put an entirely new spin on this years' experience by making it entirely walkable; and sweeping families, from the moment they arrive, into the spirit of the holidays. Advance tickets for the Speedway's biggest and brightest experience to date are available starting today on www.santasspeedway.com.
Opening on December 1, 2022 and running through January 1, 2023, this years' experience is designed to instantly put a smile on guests faces as they come into contact with the Speedway's grounds. After entering the Speedway and being greeted with a sea of LED lit palm trees guiding guests to park their cars, families will immediately feel the exhilaration of the holidays as they walk into the Speedway's Christmas Village and become thoroughly immersed in a series of jaw dropping, Instagrammable sites. From feeling what it is like to be elf sized as they walk through a display of 30ft tall ornaments, to squealing with delight as they come across a 30ft tall lighted statue of Santa on a rocking horse, to walking through a tunnel of lights into a land filled with Christmas sweets, including a collection of 20ft tall illuminated lollipops, to walking on the high banks of the Irwindale Speedway and becoming awashed in the glow of a 700ft long ocean of lights in a nautical scene that is sure to take families' breaths away, to coming face to face with a 30 ft tall Teddy Bear that is bound to make everyone's Christmas list, to getting an up close and personal look at a record setting free-standing light tree, measuring 110ft and constructed out of twelve miles of 100,000 programmable LED lights, this years' experience is set to be one of the largest Christmas displays in Southern California this holiday season.
Following the walk through, families will also have the opportunity to create the perfect holiday card as they pose with Santa himself. For those who can't be there in person, special social media handles will be set up for instagram: @SantasSpeedway and Facebook: www.facebook.com/SantasSpeedway so families in attendance can share their experience with loved ones online.
For those that are hungry for the perfect holiday treat, the Speedway will also introduce an all-new full-service café, featuring family favorites like hot dogs, hamburgers, fries, adult beverages, candy and more. They will also be able to take advantage of the Speedway's Souvenir shop where they can pick up keepsakes, like apparel and toys to commemorate the experience.
"We thought we couldn't top last year's Santa's Speedway Christmas Lights experience, but this year, we absolutely did," said Tim Huddleston, president of Irwindale Speedway. "In partnership with Mobile Illumination, we've created something that is truly magical and we can't wait for families throughout the Southland to come and experience this holiday spectacular that is bound to be the talk of family gatherings for years to come."
Santa's Speedway Christmas Lights Experience at the Irwindale Speedway & Event Center will be open five nights per week, starting at 5:00 pm and closing at 10:00 pm.  Tickets will cost $29 per adult on Wednesday and Thursday and $35 per adult for peak weekend nights (Friday-Sunday), as well as 12/16-12/25. Children will cost $19. The experience will be closed on Monday and Tuesdays with the exception of Christmas week (12/19-12/25)
For more information about the experience, please visit www.santasspeedway.com.
#