IRWINDALE SPEEDWAY 20TH SEASON RESUMES – By Tim Kennedy
Irwindale, CA., Mar. 9 – Irwindale Speedway completed a six division, seven main event program Saturday despite the rainiest winter in recent So Cal history. Three sunny days followed days of rain and permitted racing on City of Irwindale Night. Four races ran on the half-mile and three on the third-mile. Racers entertained an estimated 3,000 spectators. They braved chilly (for So Cal) temps in the low 50s to watch 56 cars race in a show lasting two hours and 45-minutes.
Featured events were a pair of 30-lap NASCAR Whelen All-American Series LKQ Pick Your Part late model main events presented by Sunrise Ford on the progressively-banked half-mile. Those events bookended the racing program as the first and seventh main events. Thirteen cars started both events.
Fastest qualifier Ryan Vargas, 18, started on the pole in a straight-up start based upon qualfying times and led all 30-laps in the opener. He drove the No. 26 Alec Martinez Chevy rented for the evening. It was his No. 23 Vargas family car through the 2017 season when Vargas drove it to three Irwindale feature victories, including a 100-lap season finale. Saturday was the fourth late model victory at Irwindale for the former So Cal resident who relocated to Concord, No. Carolina in 2018.
Vargas, the 2012 INEX Bandolero track champion, raced the No. 2 Toyota for Max Siegel's Rev Racing last season in the NASCAR K & N East Series as a Drive for Diversity driver. He raced in 14 events with six top ten finishes and placed sixth in final points among 60 drivers with K & N East points. He is currently seeking a sponsor to continue his racing career in the NASCAR Gander Outdoors Truck or Xfinity Series.
Trevor Huddleston started third and battled Blaine Perkins for second to lap 26 when he took second. He trailed Vargas by 0.648. Perkins, from Bakersfield, and Jace Jones, in his late model debut, followed. Jones drove the HPR No. 55 Chevy that his brother Jagger, 16, drove during the past two seasons. He is a son of versatile sports car, Indy Car, and stock car driver P. J. Jones and grandson of 1963 Indy 500 winner Parnelli Jones. He celebrated his 14th birthday February 22 to become eligible to race on half-miles.
All 13 starters finished the first feature with ten drivers on the lead lap. The winner averaged 90.548 mph. Rookie Jones, from Scottsdale, Ariz., ran the fastest lap of 93.211 mph with his family and brother (a NASCAR K & N West 2019 rookie) present to witness his strong showing.
SECOND LM 30: The 13-car field used a ten-car inverted starting lineup for the second feature based on finishing positions in the first 30. That put Vargas and Huddleston in the fifth row. Two cars collided on lap 2 in the fourth turn. Rodney Peacher's car nosed into the outside wall hard but he escaped injury. A 12-minute red flag ensued. Kevin Furden led four laps and Lucas McNeil led laps 5-20. The first six cars ran in a pack during early laps with passing plentiful.
Huddleston dueled Perkins for second before making an outside pass exiting then two on lap 12. McNeil ran high and Huddleston low to lap 21when the leading duo lapped two slower cars simultaneously in the third turn. Huddleston darted to the inside under McNeil and had the lead by turn four. He opened a 2.204 victory margin over McNeil.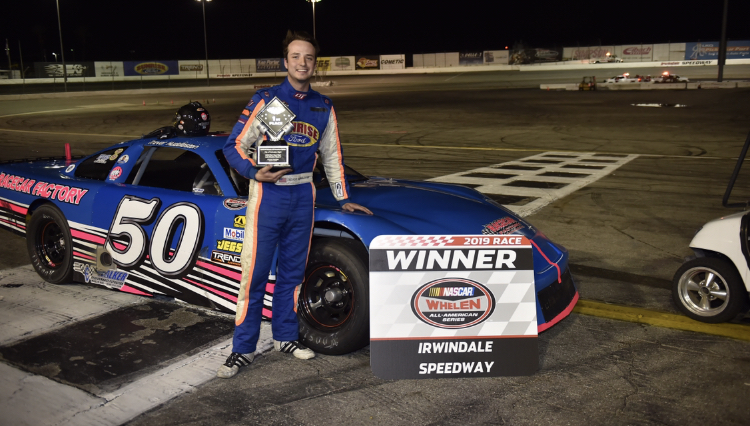 It was Huddleston's 44th Irwindale career feature victory. He is a three-time (2015-17) track and California State Whelen Series champion. He moved into sole possession of sixth place in Irwindale Speedway feature victories. The third-generation driver is one victory shy of tying his father's 45 victories. His father Tim, also a three-time Irwindale late model champion, is co-promoter at the track with Sunrise Ford dealer and K & N West car owner Bob Bruncati. Huddleston. 22, is now racing a Bruncati-owned Ford for the second season in the NASCAR K & N West Series.
Rounding out the top five in the second 30 were Perkins, Vargas and rookie Jones. His grandparents and brother Jagger watched his late model debut after he raced only a legend car on the third-mile from age 12. The top ten drivers completed all 30 laps in a race concluded at 9:48 pm. Most fans skipped a pit visit and hurried to their vehicles and drove home.
OTHER WINNERS: Other races on the half-mile included a fully-inverted Lucas Oil Irwindale Race Trucks 30-lap race with seven trucks. Fastest qualifier and 2018 series champion Lucas McNeil, 25, passed early leader Andrew Porter on lap 4 and led the final 27 laps. He averaged 86.963 mph during a ten minute, all-green race. Porter trailed by 0.966. Jacob McNeil, brother of the winner, was third. Past series champion Ron Peterson earned fourth with a last lap pass of fifth place Nico Mongenel.
The Spec Late Model 20-lap main, also on the half-mile, went to Kenny Smith, 72, the reigning series champion and oldest champion in Irwindale history. He set fastest qualifying time, started last and led the final six laps. He beat laps 1-14 leader Ed Cutler. John Watkinson, 61, and 23-year old series rookie Troy Andersen, an enduro car veteran, followed. The formerly named S2 Cars built by Racecar Factory in Irwindale began racing in 2009. Four cars raced Saturday.
THIRD-MILE MAINS: Super stocks, INEX Legend Cars and four-cylinder enduro cars raced on the third-mile. Winners included Rich De Long III, driving his No. 84 Chevy SS, in a 25-lap super stock main. The series 2018 track champion broke his own one-lap track record from 2018. His 16.341 (73.361 mph) topped his old record of 16.431. The winner became the third race leader on lap 4 with an inside pass of the backstretch. He won by a straightaway over laps 2-3 leader Jerry Toporek (Dodge Dart). Position three through five drivers Rich De Long (father), Harry Michaelian, and lap 1 leader Bridgette Shaw completed 29 laps.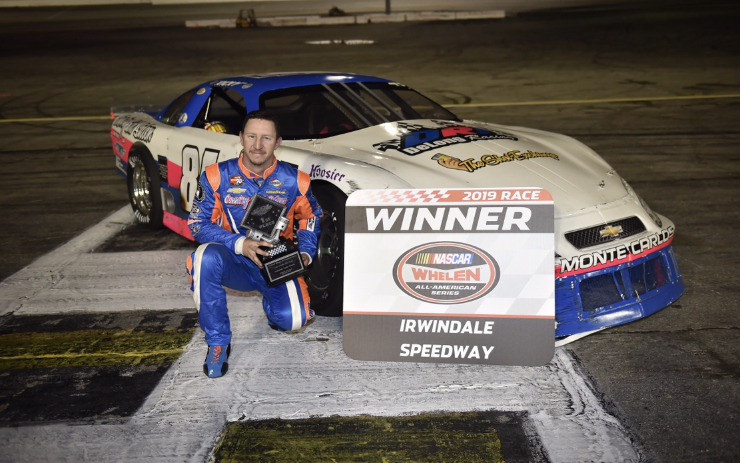 Former 410 sprint car driver and 1998 Perris Oval Nationals feature winner Rodney Argo, the fastest qualifier in a 17-car field, drove a 1999 Honda Prelude. The Gardena resident took command of the 25-lap race by lap 6. He won by half a lap (-8.812) over Bory Molina's Toyota Celica. Bobby Ozman placed third. Thirteen cars finished and the top four logged 25 circuits. Cars this season are divided into two classes based upon power. Fourth place Brad Stellman won in the less powerful class with his Honda Accord.
Albuquerque, N. Mex. resident Cameron Morga, 19, set fastest qualifying time and started at the back of a nine-car INEX Legends field. He charged through the field and took the lead on lap 4. He won the 35-lap event by six seconds. He also won three years ago in the same car No. 54 coupe on his first visit to IS. Morga ran Saturday's fastest race lap–74.367 mph. He also has raced touring Lucas Oil Modifieds during the last two seasons.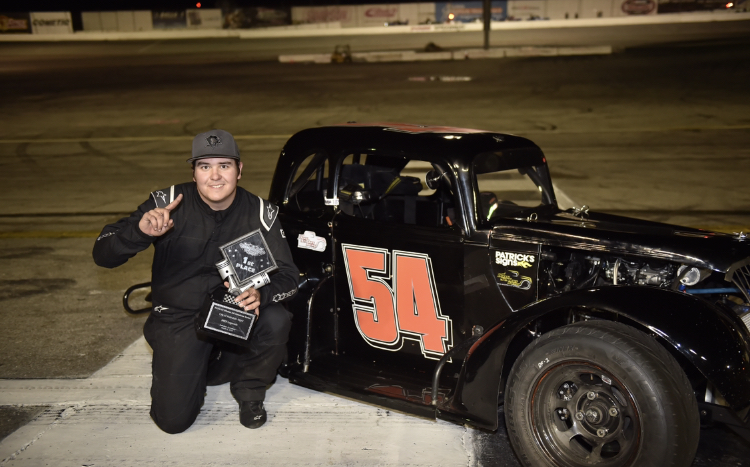 Morga told spectators during his finish line interview over the PA mic, "I won here three years ago (July, 2016) on my first visit to this track. This is a very demanding track for legend cars," he added.
Ricky Schlick, series five-time champion Darren Amidon, and Parker Stephens, from Olympia, Wash., completed the top five. All nine starters finished with seven cars on the lead lap.
The next race at IS will be Saturday, March 23 with Spears Mfg SW Tour super late models and Spears Modifieds (former Lucas Oil Modifieds) scheduled.
################################