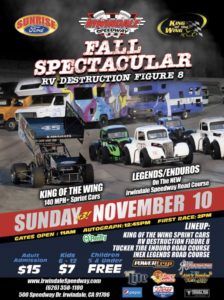 FOR IMMEDIATE RELEASE
RV Destruction, Winged Sprint Cars, and a New Road Course to Take Center Stage on Nov. 10th
(Tuesday, September 24, 2019) Irwindale, CA –Irwindale Speedway is pleased to announce the addition of the Nov. 10th "Fall Spectacular" to its 2019 schedule.The special Sunday afternoon races will see a combination of left turns, right turns, speed and destruction, in what is sure to be a highlight worthy event.
Headlining the night will be Davey Hamilton's "King of the Wing" National Sprint Car Series, where they will once again tackle L.A.'s Half-Mile Super Speedway. The 800+ horsepower machines are the current all-time track record holders at I.S., with sub 14 second laps and 140mph speeds that keep both drivers and fans on the edge of their seat. The series, which debuted in 2014, features both 360ci and 410ci V8's, powering a winged sprint car chassis that, together, result in some of the finest racing in North America. If that wasn't enough to provide heart stopping action, the event will also serve as the high stakes 2019 season finale for the series.
In addition to the fastest cars on asphalt, a couple of fan favorite divisions will meet a new challenge this fall. The INEX Legends and Tucker Tire Enduros will be competing in the first ever Irwindale Speedway Road Course event. The road course will feature 12 turns and will utilize both the 1/3 and 1/2 mile ovals in its design, combing high-speed banked corners with a technical infield section. I.S. management has done preliminary testing on the course and is confident it will prove to be a hit for both racers and fans alike.
The final show of the day will be the return of the RV Destruction Figure 8. This 'Gladiator'–esque competition of bravery and skill will feature Class C motorhomes hurtling toward an uncontrolled intersection with only one goal in mind, SURVIVAL. Irwindale Speedway's "Master of Mayhem" Robert Rice will be looking for his second win of the year as he, and his trademark black and orange Pick Your Part #7, will square off against a dozen other competitors who also expect to be the last man standing.
Gates will open at 11am for spectators, with autograph session at 12:45pm and races starting at 2pm.
Tickets for Irwindale Speedway's "Fall Spectacular" will go on sale Wednesday, September 25, at IrwindaleSpeedway.com
About Speedway: Irwindale Speedway is located at the 605 Freeway and Arrow Hwy.  Featuring both a 1/2 and 1/3 mile oval, along with an 1/8 mile dragstrip. Irwindale plays host to a variety of motorsports themed events including NASCAR Whelen All-American Series and NHRA Summit E.T. Series action. Thanks to all the great partners of the speedway: Sunrise Ford, High Point Distributing, LKQ Pick Your Part, Lucas Oil, Powertrip Rentals, O'Reilly's Auto Parts, Jan's Towing, Ken Porter Auctions, Pinnacle Peak Steakhouse, Clean Out Plumbing and Wood's Electric. For a complete schedule of events, visit www.irwindalespeedway.com